"We put the raw beauty of nature at the heart of our creations," says Guichard, 47, as we mill about sipping champagne from flutes, petting the dog (a speckled French pointer named Nuts) and admiring the guitarist (a long haired, barefoot man in white linen). "Every ingredient has several facets. I decide which one I will play with, which twist I will give."
"My grandparents grew roses, jasmine and verbena in this region," he continues, extending an arm. "I remember my grandfather standing in front of the scales, in the shade, gathering the pickers to weigh the harvest. The smell of the flowers mixed with the smell of the earth, the burlap sacks and the gasoline from the agricultural machines. I wanted to continue their commitment to the regional know-how of growing perfume plants."
In the morning we'll tie cloth bags around our waists and join two local pickers, sturdy Gypsy women whom Guichard has known since a boy, in plucking the tuberose heads from their stalks, working our way down corridors of plants, emptying our stash into wicker baskets. The flowers will then be delivered to a local company and transformed into 'absolute', divulging their floral power, their sensual side eked out via the little-used technique of enfleurage – the art of trapping the fragrance in oil.
Devoid of colourants, permitted to age and packaged in a handmade bottle, French Flower smells just as it is intended to smell: like a tuberose field on a summer evening in Grasse.
It's slow perfumery, Guichard style. An aesthetic he's dug deep into these environmentally friendly, Ecocert-ified grounds, where he also grows his own Rosa centifoliathe blowsy pink cabbage rose used for the genderless Matiere Premiere fragrance Radical Rose, and where he'll soon begin cultivating lavender.
Listed in 2018 as a UNESCO Intangible Cultural Heritage site for its perfume-related savvy, Grasse hosts dozens of companies in the industry, Chanel and Dior among them. But it's the return to organic farming and time-worn practices, to crude beauty in the best, most simple sense, that sets Matiere Premiere apart.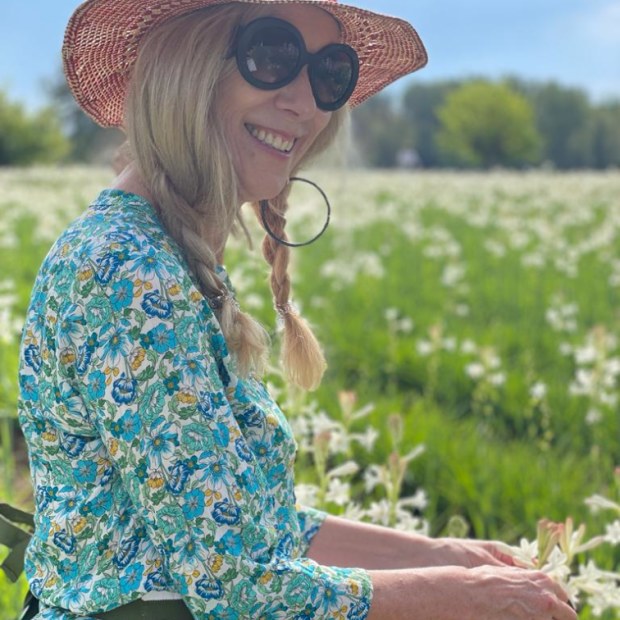 Guichard lives between Grasse, where he was born, and Paris, where his apartment overlooks the Jardin du Luxembourg. A field hockey fanatic and bibliophile (he cites Jean Giono's classic 1953 short story The Man Who Planted Trees as a favorite read), Guichard has spent time in England, where he studied economics before training at the Givaudan Perfumery School in Paris – his father, Jean Guichard, the 'nose' behind blockbuster fragrances Obsession and LouLou, is a former director. He then worked at Givaudan New York.
For several years, he has been a senior perfumer with Japanese beauty conglomerate Takasago, for whom he's created fragrances including Burberry Hero.
"I was lucky that Takasago gave me the freedom to found my own company and spend time in the south of France," says Guichard, whose good vibes are such that French fashion icon Carine Roitfeld named her 2019 unisex fragrance Aurélien after him. "They even suggested I build my own laboratory. I asked my mother Béatrice, who is a sculptor working in metal and marble, if I might do this on the property. She asked if she might share it."
It's the day after the Great Tuberose Reveal. Flower heads picked, ate lunch at long tables under white umbrellas, we're sitting inside Guichard's workshop, a small rough-hewn building fashioned in the style of the nearby stone outhouses and further back, the secluded main residence with its swimming pool and large -scale outdoor sculptures.
Through a window, a clutch of red metal fronds jut from the ground: Béatrice Guichard's signature Les Hautes Herbes ('The Tall Grass') sculptures, variations on the installation that is on permanent public display in the Place du Louvre in Paris.
Guichard's laboratory is white-walled, light-filled, calming. A large publicity still displays Crystal Saffron, a new creation, the bottle atop a mound of deep-red saffron that is produced, I'm told, in northern Greece. All 10 Matiere Premiere fragrances line a wooden table. There are pipettes, glass containers, laboratory scales, blotter strips. As Guichard sprays, I sniff: Parisian Musc, woody and vegetal, coaxed out of ambrette seed from Peru.
Then, Neroli Oranger, impossibly pure absolute orange blossom from Tunisia. Falcon Leather, dark and arresting, created from birch tar from Finland. Santal Austral, a sensual white wood fragrance distilled by DSO (Dutjahn Sandalwood Oils) in Western Australia.
"We know that not all the best product comes from Grasse. I was researching raw materials from around the world, and Dutjahn was a great example of a fair trade company with an amazing product. They're award-winning, and 51 percent owned by First Nations [Martu and Wongi] people. Working with ethical international producers who source quality raw ingredients and also help local development is at the heart of what we do."
When it comes to magicking the next Matiere Premiere fragrance, Guichard is in no rush. Each creation takes time. A lot of time: "I work on and smell about 50 different compositions a day. Sometimes it can take me 2000 tries to make a fragrance. It's a bit like when my mother sculpts from marble. She's always reducing what she's working with.
"I want to create perfumes whose textures leave a real trail. That make people ask you what you're wearing several times a day. That forge connections, evoke memories."
Of a tuberose field on a summer evening in Grasse, perhaps?
Guichard flashes a smile. "Oui," he says. "Memories just like that."